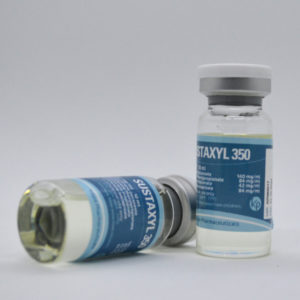 Sustaxyl 350 drug manufactured by Kalpa Pharmaceuticals is a steroid consisting of a mix of testosterone compounds produced in the form of ester compounds. In the modern modification of Sustaxyl, there are four main active esters that differ in different half-lives. This approach to the selection of components provides a longer period of action into the body, for this reason most bodybuilders prefer to use this steroid in cycles designed for building muscle mass. Those who wish to profitably buy Sustaxyl 350 from Kalpa Pharma can contact the specialists of our online store who will be happy to advise you and help you place your order.
Product Description
It is worth noting that this drug appeared on the world market of ssteroids for a relatively long time. Due to its availability and high quality, Sustaxyl 350 is widely used among athletes of various sports. As noted by numerous reviews of Sustaxyl 350, this drug with proper use helps the athlete to achieve their goals with virtually no side effects. With a well-designed intake regimen using this steroid, an athlete can get such results as:
Stimulation of muscle growth;
Strengthening performance and physical fitness indicators;
Stimulation of tissue regeneration processes;
Strengthening sexual desire;
Elimination of joint pain.
Also, this drug helps the athlete to obtain other, equally important for sports results. The active components of Sustaxyl 350 have a positive effect on the respiratory processes of tissues, allow you to get a powerful pumping effect, as well as achieve other results. Our company offers the best price for Sustaxyl (Kalpa Pharmaceuticals) 10 mL 350 mg.
Optimal dosage
Usually, the cycle with this drug can last from 6 to 12 weeks, but no more. Beginners usually prefer to take this drug for no more than 8 weeks. This approach to the cycle will allow you to get the maximum result and at the same time minimize the likelihood of side effects. On average, experts prescribe an athlete to take Sustaxyl 350 in a dosage of 350 to 700 mg. In our online store, Sustaxyl 350 from Kalpa Pharmaceuticals is sold under the most favorable conditions for both new and regular customers.
Combination with other steroids
As professional athletes noted in their reviews of Sustaxyl 350, the drug belongs to the category of few steroids that are perfectly combined with any kind of steroid drugs. Experts generally recommend that athletes take this drug in combination with:
Stanoxyl 10;
Trenboxyl Enanthate 200;
Dianoxyl 10;
Anadroxyl;
Stanoxyl Depot;
Trenboxyl Hexa 100;
Oxandroxyl 10;
Primoxyl 100
Where can you buy Sustaxyl 350?
Our company is not the first year at a professional level where you can profitable buy Sustaxyl 350 and other steroid drugs. For each client we have a flexible pricing policy and a whole system of discounts.