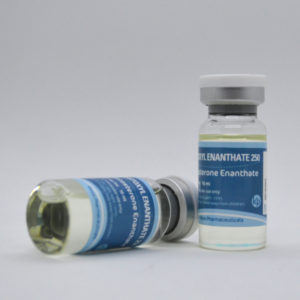 Testoxyl Enanthate 250 is a natural testosterone ester with a long duration of action. Basically, this drug is used by both beginners and professional bodybuilders, weightlifters, as well as those involved in other sports in which weight and strength are important.
The pronounced anabolic and androgenic properties of this drug allow the athlete to get the desired weight gain in a short time, while there is no need for frequent injections.
Product Description
It is worth noting that the main active component of Testoxyl Enanthate is testosterone enanthate, a component that was previously in high demand among domestic athletes. With its help, as well as with the help of a well-designed intake schedule, an athlete can get the following results from the cycle:
Accelerated build of muscle mass;
Increased sex drive;
Significant increase in power indicators;
Increased appetite;
Acceleration of protein synthesis;
Pumping effect.
Recommended Dosage
The half-life is about 10.5 days. Basically, the duration of admission is from 6 to 8 weeks. The weekly dosage may vary from 250 to 1000 mg. The main advantage of this drug, as many experienced athletes note in their reviews of Testoxyl Enanthate, is the low frequency of injections due to the rather long period of action of the main active component. However, do not forget that only a specialist can help both a beginner and an experienced athlete to choose the optimal dosage, taking into account the individual characteristics of the body and the experience of taking steroid drugs.
Testoxyl Enanthate Cycles
For beginners, in order to accelerate muscle growth, it is best to combine it with drugs such as:
Turanaxyl;
Stanoxyl 10;
Primoxyl 100;
Arimixyl;
PCT should be carried out without fail no later than 10-14 days after the last administration.
Athletes with more experience of taking steroids can use drugs such as:
Boldaxyl 300;
Nandroxyl 250;
Anadroxyl;
Testoxyl Propionate 100;
Arimixyl;
HCG.
The best would be starting PCT the day after the last injection of Testoxyl Propionate.
In cycles designed for accelerated muscle growth, the following drug combinations can be used:
Boldaxyl 300;
Trinaxyl 150 / Trenboxyl Enanthate 200;
Turanaxyl;
Testoxyl Propionate 100;
Arimixyl;
HCG.
Post-cycle therapy, it is better to start the day after the last injection of Testoxyl propionate.
Where you can buy real Testoxyl Enanthate 250 ?
At our store, you can buy Testoxyl Enanthate 250 (Kalpa Pharmaceuticals) 250 mg- 10 mL, and other steroid related products, at a lower price than in pharmacy. We offer only genuine products. Having chosen our store, you will not only receive an effective steroid of European quality, but you can even save on your purchase.